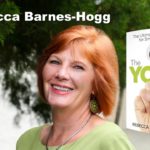 "Recruiting and hiring."
Those words strike fear into the hearts of most small business owners who struggle to find the top talent they need to run a successful business. Hiring employees is a huge investment and getting it wrong can make or break a small business.
Attend the virtual launch of The YOLO Principle: The Ultimate Hiring Guide for Small Business and learn how to end your struggle to hire the right people. Recognized small business hiring expert, speaker, and author, Rebecca Barnes-Hogg, will present plenty of tips and resources that are easy to understand and implement. Whether you have been hiring for a while or are just starting out, you will be shocked at how easy it is to hire amazingly talented people, understand what it takes to find the top talent you need, and enjoy reduced stress, increased profits, and a good night's sleep. You'll be amazed by the small changes you can make immediately that will produce big results.
In a refreshingly simple and entertaining way, Rebecca Barnes-Hogg show you how to leave your hiring headaches behind by:
Unleashing your inner artist to create a purple unicorn (your ideal employee) so you can stop settling for Lazy Larry, Diva Debbie, or Gossip Gayle. Finding the answer in the question by asking Insightful Interview™ questions to learn the truth about your candidates instead of relying on rehearsed answers that lack substance.
Keeping the keys away from that employee (and most of us have hired at least one) who will drain you of every ounce of your time, energy, and sanity—and probably cost you a small fortune too.
Attendees will earn one hour of SHRM recertification credit.
To listen to the recording, follow this link.
To purchase your copy of The YOLO Principle, follow this link.