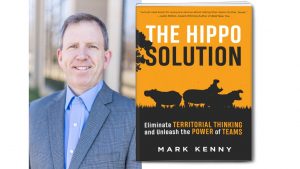 Did you know that hippos are one of the most territorial, hostile animals on the planet? THE HIPPO SOLUTION is the roadmap for leaders to transform their organization from hippo-esque territorial thinking to a culture of teamwork that breeds speed, adaptability, and peak performance.
Through a simple formula, with five variables and five transformative actions, THE HIPPO SOLUTION will show you how to: • Eliminate territorial thinking between departments, divisions, and teams to function as one cohesive team. • Create an unstoppable alignment of teams across the organization around the same collective purpose. • Expend constrained time and energy on what really moves the needle.
Cathy gave me the encouragement, accountability, courage, and confidence to start, continue, and finish my book! She walked me through the entire process and helped me push through when I was stuck, feeling overwhelmed, or discouraged. If you want to write a book, don't hesitate, hire Cathy!