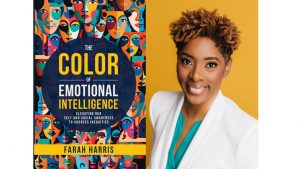 It takes strength not to curse someone out when they're being rude, or not to lose it when your child is being disobedient. It is also emotionally taxing to keep it all together when you are on the receiving end of a microaggression.
Each of these instances requires us to use our emotional intelligence (or EQ). And, while it is a basic skill, there are more shades to emotional intelligence than you might think. Emotional intelligence can also be used to break barriers to equity.
In The Color of Emotional Intelligence, psychotherapist and well-being expert Farah Harris uses personal stories, anecdotes, and insight to discuss:
The fundamentals of emotional intelligence and barriers to practicing EQ effectively
How emotional intelligence is used as a survival skill by marginalized people
Different types of stressors, including microaggressions, and resulting unhealthy defensive tactics, such as code-switching and masking
Self-care strategies for handling systemic stressors that affect people from marginalized groups
Tools everyone can use to elevate their emotional intelligence to address inequities and become better stewards of humanity
Don't go through life seeing things in black and white. It's time to see the world in color.
To order your copy follow this link.
Working with Cathy was like having a coach, mom, and cheerleader all in one! She provided great insight, encouragement, direction, and space. And I needed the space, LOL. It was clear throughout my writing journey that Cathy is determined to get all her authors to the finish line, no matter what. And an author (especially a new one) needs that.
Also, Cathy provides such a beautiful and supportive community of fellow authors! These weekly meetings offered so much! New relationships, tips, and a dedicated time to writing if you happened to have fallen short during the week. There's so much to glean from these sessions with her and Allie.
Lastly, I appreciate the resources that Cathy provides her authors. Whether it's a writer's retreat, webinars, referrals to publishers, or her blogs, there's always something that helps to elevate one's writing and helps you to have a successful book launch and marketing. I recommend working with Cathy if you need that needed push toward greatness.