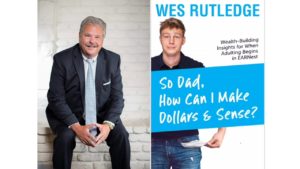 Wealth-Building Insights — Sure, we all want them, but our young adults and first-time investors are going to need them. Written without all the financial mumbo-jumbo and jargon that crawls all over Wall Street, this book by successfully retired financial consultant Wes Rutledge shares practical insights and experiences – in a way that's as patient and compassionate as Wes's actual conversations with his own young-adult children.
So Dad, How Can I Make Dollars & Sense? helps you crystalize what you want to accomplish in your financial future and begin forming your plans. You will walk into your HR department or financial professional's office with confidence to begin building your wealth (the wealth that will take care of you throughout your life and beyond) instead of "just putting it in something and hoping it goes up or does ok." So Dad was written to help you Make Dollars & Sense!
Working with Cathy:
From a manuscript to a book – from a writer wannabe to an author – from files in my computer to a published, very fine-looking book that I'm so very proud of – That's where Cathy Fyock where patiently guided me and helped me achieve!
I showed up in her email box wondering if there was a way to advance my rough manuscript into a book, but not just any old book – I wanted a better book for my young adults and influencers. And that was before I had even identified those audiences – the audiences Cathy helped me recognize.
Cathy is the real deal, people! She patiently guided me to my publishing team and then lead the manuscript's re-visioning. Patient, did I say she was patient? She endured my 8 different attempts to find a better tone in Chapter 1. And then we began tackling the rest of the book together. That's great coaching!
She also led me to my publisher and editor, Kate Colbert, of Silver Tree Publishing. Together with Cathy, they took their top-tier skills and guided this puppy home. Let's face it, I had a manuscript, but I was stuck. I knew it needed professional polishing, but then where would I go? How could I advance it into a book? That's exactly what Cathy does best! She coached me into an author, and a rough manuscript into a polished, professional book that was better than I could have imagined or dreamed of producing. And despite her having so many successful, accomplished clients, she made my goals and aspirations feel like they were her top priorities. She genuinely cares about our success!
Take it from me, a retired financial professional, entrusting my time and efforts with Cathy Fyock was indeed a great investment that will pay rewards to me for the rest of my life. Thank You, Cathy!!
To purchase a copy of So Dad, How Can I Make Dollars and Sense? follow this link.