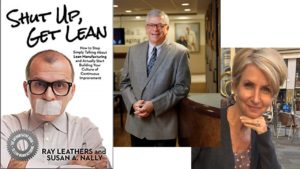 Without Cathy our book, Shut Up, Get Lean, would not exist. She convinced us that we had a book in us, became our accountability partner, led us to our publisher, and provided the ongoing moral and technical support to to develop the manuscript. Cathy has been the inspiration that made the difference in turning our dream into reality. Cathy is the coach that can take you to the next level as an author.
–Ray Leathers, Author, Shut Up, Get Lean
From the powerhouse team of Ray Leathers and Susan A. Nally — the visionary and the strategist who together transformed a manufacturing company's culture and its balance sheet — comes a new book that's as practical as it is purposeful.
EVERYONE TALKS ABOUT LEAN MANUFACTURING. ISN'T IT TIME YOU STOPPED TALKING AND STARTED BUILDING YOUR CULTURE OF CONTINUOUS IMPROVEMENT?
Leathers and Nally offer straight talk about what works, and what can go wrong, then distill and simplify Lean tools and strategies for your rapid application. The book is broken into three engaging sections:
1. Shutting Up: Listening to the Lessons that Can Transform Your Business
2. Getting Lean: Tools, Systems and Strategies You Can Use
3. Staying Inspired: Stories to Encourage and Guide You