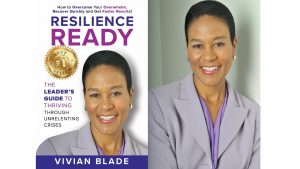 Are You Resilience Ready?
Ineffective crisis leadership of your operations and, most importantly, your human capital will cripple your organization. The dysfunction, disengaged employees, suffering productivity and dismal operational performance that result can create a crucial gap. Resilience Ready closes this gap. Let leadership expert and thought leader Vivian Blade show you how Resilience Ready teams can…
Rally around a meaningful Purpose with a positive, "can do" Perspective.
Pull together in Partnership to Persevere against all odds.
Accomplish more in a culture of Praise.
Overcome the overwhelm, recover quickly, and get faster results!
Resilience Ready is the leader's guide to thriving through unrelenting adversity, uncertainty, and change. Your toolkit includes the five Resilience Ready principles with lessons learned from real stories of resilience. You will have access to tips, best practices and resources to guide you in how to build your personal resilience and how to lead with the resilience your team needs so that stronger, more humane leaders and organizations emerge.
It is Time to Lead with Resilience!
Cathy has been amazing to work with! She has inspired me and has been a partner through the entire process of concepting, writing, publishing and launching this book and my first book, FuelForward. I have attended Cathy's writing retreats, masterminds and have benefited from all the resources she has available. Cathy also introduced me to the publisher I used for Resilience Ready, Ignite Press, who also has been a tremendous parter. Whether you are just thinking about writing a book, have already started, or wanting to get better at marketing, I highly recommend you work with Cathy. I'm so glad I have!