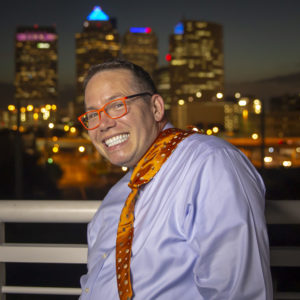 A standout LinkedIn profiles is critically important (you can see our presenter's profile – which is always being revised – at http://linkedin.com/in/philgerb) – but a good profile is only a starting point. Join Phil Gerbyshak as he shares his tips on creating a stand out profile (because you have to get dressed before you can get busy) – and then helps you get busy, with tips on creating content, connecting to people (engagement) and conversion to a real conversation.
Phil Gerbyshak is a speaker, sales expert, sales trainer and speaker business coach. Phil trains his clients on the power of connection, leveraging the reach of social media, combined with the deeply personal work of nurturing 1:1 relationships, growing profitable long-term clients, transforming businesses and boosting revenue.
He's written 5 books – the 6th will be out by the end of 2019 – and he's been featured in Wall Street Journal, USA Today, Forbes, Fortune, and many other media outlets as a go-to expert for the work he does.
Phil has worked with hall of fame speakers, authors and trainers to build their brands – and their businesses.