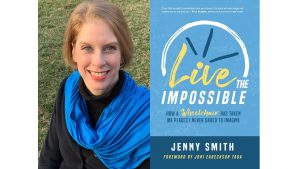 Jenny Smith was a typical teenager—a gymnast and athlete who loved hair and makeup, played in a band, and was active in her church youth group.
Then one bright summer morning, a spinal cord injury left her paralyzed from the chest down and dependent on others for her most basic needs. Privacy and independence seemed like things of the past.
But Jenny refused to give up or give in to her disability, and over time she discovered that a wheelchair could take her places she'd never dared to imagine. She's traveled multiple times to Afghanistan and Mexico for wheelchair distributions and sports camps, and even rolled the New York City runway as a model during Fashion Week.
Today, Jenny Smith is a spokesperson for independent and vibrant living with a disability. Her speeches, articles, and social media presence have touched thousands of lives.
In Live the Impossible, Smith shares what it looks like to live with paralysis, from the everyday details most people never think about, to the countless people who have impacted her life along the way. With honesty and humor, faith and fortitude, Jenny shows us how we can all live the impossible, even when life doesn't go as planned.
Read this encouraging story today.
To order your copy follow this link.
When I started participating in Cathy's Speaker Author Mastermind Group, I had already written my book. The group sessions were valuable in receiving feedback and discovering techniques on how to successfully launch my book.