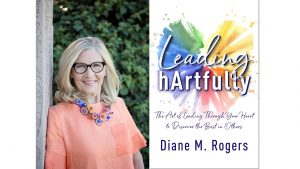 Most leadership development books teach readers "how to lead," but for acclaimed leadership coach and consultant Diane Rogers, that's not enough. In her debut book, Leading hArtfully: The Art of Leading Through Your Heart to Discover the Best in Others, she shines a light on what's missing from a leadership strategy that draws upon a conventional authoritarian "leader-as-expert" focus and offers the distinct opportunity to leverage the strengths and magnificence within your employees and colleagues. Diane shows you how to BE your best leader self to bring out and discover the best in them.
Leading hArtfully is a book about the art and the heart (aka "hArt") of leadership. It's an invitation to bring your best self forward in transformative ways to discover and leverage the best in others — in your work and in your everyday life. Diane explains that, "Getting to the heart and art of leading, finding your flow, elevating the eloquence and grace within you, and connecting — at the heart level — with each individual is an experience not to be missed. It holds the possibility of a most magnificent journey of leading others."
Cathy facilitates making the impossible possible! For as long as I can remember I wanted to write a book. And while I believed there 'was a book in me', this notion of being an author and sharing my impassioned messages brought with it insecurity, a lack of confidence and stifling inability to get started … until I met Cathy. Not only did I start to write a book, I finished one! The process, coaching and encouragement that Cathy brings to each conversation is expert, supportive and motivating. Her 'accountability' nudges were key in helping me to cross that finish line and experiencing the delight in BEING an author !