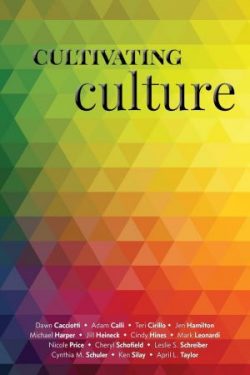 The culture of an organization is an abstract, immaterial thing–yet culture is very real, and it's monumentally important for that organization's health, happiness, and success. An organization's culture is important for employee satisfaction and other "soft" factors, but it also makes a difference on the bottom line and quarterly reports–and in ways both more specific and more significant than you might imagine.
In this Red Letter Publishing Professional Series anthology, our authors offer their measured suggestions for how you can cultivate a healthy, forward-thinking culture in your own organization. Like any matter of value, a good culture requires time and investment–but it needn't be as complex as brain surgery.
Authors include: Dawn Cacciotti, Adam Calli, Teri Cirillo, Jen Hamilton, Michael Harper, Jill Heineck, Cindy Hines, Mark Leonardi, Nicole Price, Cheryl Schofield, Leslie Schreiber, Cynthia Schuler, Ken Silay, and April Taylor.
"What are you crazy? I'm not a writer!" I thought to myself vehemently when first approached with the idea of writing a chapter for one of Cathy's anthologies. Sure, the idea of having the authorship of, at least a portion of, an honest to goodness published book to add to my bio sounded appealing. And yes I knew it would give me an added sense of legitimacy to set myself apart from the competition in the crowded market of the Washington DC metro area. I even knew it'd make my mom, grandma, and kids very proud! but really? ME? An author?
Then I met with Cathy Fyock. The first portion of my fears were alleviated when we went through the logistics. But what about the actual WRITING? Nobody could do that for me! Then she explained the writers' workshops that would be offered. She explained to me that editing support was included in the package to ensure I would deliver a quality, polished finished product I would be happy with and would be proud to share. We also had a lengthy discussion about topic selection. By the end of our meeting, I was ready!
I've given my book to students in classes I've taught, to prospects, to current clients, to business partners, and I even donated one to my local library! I've sold copies of the book online (much easier to do then you'd think!) and after speaking engagements. I'm glad to have written my chapter, and am exploring the possibility of doing another when the time is right. I can recommend Cathy as partners to any author, whether you be an experienced author, or an apprehensive rookie like I was!
– Adam Calli, MSM, SHRM-SCP, SPHR Principal Consultant,. Arc Human Capital, LLC
Being a co-author of Cultivating Culture has been one of the best decisions I made for growing my business.  I have put the book into my marketing strategy by sending them to prospective clients which has helped me to gain exposure and credibility.  Not only did I gain the experience and confidence to become an author; Cathy does an incredible job of connecting the authors during this process allowing a team of us to collaborate and start working together to help organizations in creating healthy cultures.  I highly recommend this for anyone looking to advance their business and wishing to gain credibility in their desired field.
 – Dawn M. Cacciotti, SPHR HCS SHRM-SCP,  Author, Cultivating Culture
This was an incredibly rewarding experience writing with talented authors across –multiple industries.
– Cynthia Schuler, Author, Cultivating Culture
To order your copy of Cultivating Culture (all Amazon sales benefit the SHRM Foundation), click here.