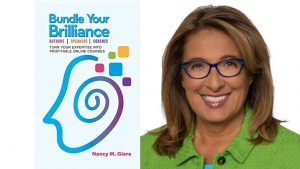 Have you been thinking about creating an online course?
People say I should package and sell what I do . . . and I don't know how to begin.
I'd love to create predictable passive income using my expertise . . . and I don't know how to make that happen.
I barely have enough time for everything I'm already doing . . . although an online course would be a great addition to my business.
If that's the case, then this book is exactly what you need.
Finally, an easy-to-follow, step-by -step process to create engaging online courses.
Nancy Giere has worked on just about any kind of project you could imagine, with an enormous breadth of experience across many industries.This book is a summary of that vast knowledge and experience.
Qu estionnaires, checklists, and links to important resources simplify the process. Step by step, Nancy gives you the insights you need and tells you not only what to do but how to do it!
Working with Cathy was one of the best investments I've made. I would have never completed my book without her guidance and support!
To order your copy of Bundle Your Brilliance, follow this link.