What makes for an award-winning launch plan? Cathy Fyock interviews the three winners of the Christian Authors Network Crown Awards for Outstanding Visual Media to learn their secrets for successfully launching their books.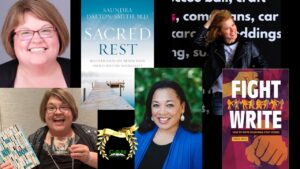 Adria Wilkins is the author of The Joy Box Journal, a unique devotional and journal designed to give to the next generation. After suffering the unthinkable – death of three-year-old Blake, she found that Jesus sustains, and evens surprises His followers with joy. Adria used videos leading up to the book's release which earned her the gold award for Outstanding Visual Media.
Dr. Saundra Dalton-Smith is a physician, author, and speaker who won the 2019 Gold CAN Crown Award in the Broadcast Media category for her marketing efforts to promote her book Sacred Rest: Recover Your Life, Renew Your Energy, Restore Your Sanity. Her marketing strategy included creating a quiz that increased her email list from 2K to over 25K and self-pitching herself to the media which resulted in over 100 interviews on radio, TV, and podcasts.
Carla Hoch is a published writer and trained fighter who teaches the craft of writing fight scenes. Carla's blog, FightWrite.net, has been a writer's resource for fight scenes, action and violence since 2016 and was #11 on Writer's Digest Best Websites for Writers 2019. By posting to her blog and recording her FightWrite podcast, Carla markets her brand and her Writer's Digest book, Fight Write: How to Write Believable Fight Scenes by doing what she has happily been doing for years.