When Dr. Amy Luscher Smith launched her new book–My Faith Sparkles–this past month, she positioned herself as a Speaker Author.
The event was held in Frankfort at the Paul Sawyer Library, a beautiful venue that offered plenty of space for Amy's big crowd of friends, family, colleagues, and others, which she promoted on social media.
As guests entered, they were asked to sign Amy's book as a memento and could register for prizes, giving Amy an opportunity to add each attendee to her tribe.
On the table as she personalized each book, she offered a Speaker Kit, complete with Speaker Author One-Sheet, media sheet with interview questions, and other details.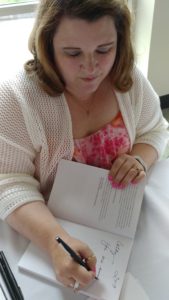 Amy also invited other partners to participate in her event. In this case, there were organizations that supported breast cancer patients and survivors, and each organization brought information for attendees.
Of course, books were available for sale, and Amy generously signed each one. She also donated one book for every book sold to an oncology unit or other location where it could be available for those who needed the comfort offered in her book.
As a Speaker Author, Amy also spoke to the group and provided some selected readings.
If you would like to order Amy's new book, you can find it on Amazon.