You Can Have it All!
Family. Career. Friends. Yourself. The ups and downs. A lot to manage right? Life can be overwhelming when you think about all of the many responsibilities you have to handle.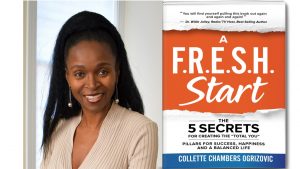 The fact is all of these can make it difficult to fulfill dreams and meet the goals that you have set for your life. What if I told you that there's a blueprint, which will result in you having a successful, happy and balanced life?
In A F.R.E.S.H. Start: The 5 Secrets for Creating the "Total You", Pillars for Success, Happiness and a Balanced Life, motivational speaker, and mind and body health expert Collette Chambers Ogrizovic outlines her F.R.E.S.H. concept, showing you how to create the foundation to have the life that you want.
• Manage finances
• Balance responsibilities
• Overcome despite life's challenges
• Apply daily practices to help get you through the tough spots
• Find time to take care of your health
Cathy, I am an author! WOW! Time is of the essence when writing a book. You need to be focused, purposeful, motivated, and have quality content. Cathy's coaching kept me on track in all those areas. Her candid and honest feed-back after my first draft "kicked" me into gear for quality content.
Without Cathy I would not have completed this book; especially at level of quality that I sought after. Thanks Cathy for helping my dream to become a reality. YOU are AMAZING!