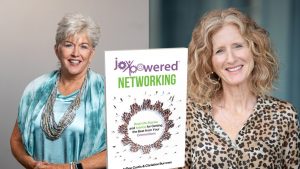 For many people, networking creates a sense of dread, fear, or stress. But what if it could bring you joy? In JoyPowered® Networking, power networkers JoDee Curtis and Christine Burrows share their advice, experiences, and lessons they've learned about creating meaningful and joyful connections.
JoyPowered® Networking provides inspiration and tactics to help you:
Define your networking goals
Assess the value of a networking opportunity
Give as much (or more!) to the relationship as you receive
Assess the appropriate amount of commitment needed
Master the art of networking
Are you ready to become a JoyPowered® networker? Find the joy in your network and get the best from your connections today!
To order your copy follow this link.
Cathy is outstanding as both a group leader and a coach, and her resources, guides, and referral partners were a significant bonus.   Cathy exceeded all of my expectations along the book writing process from writing prompts, to time management, to thought provoking questions, she continued to challenge us to think creatively.  Although I wrote four books before working with Cathy, I'll never write another one without her!
–JoDee Curtis, CSP, SHRM-SCP, CPA