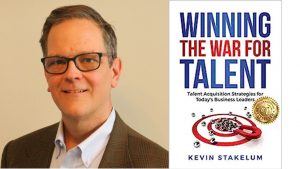 Companies claim that they cannot find the talent that they need while millions of job seekers claim that they are not even being considered for current or future openings. Salaries are increasing as companies try to lure more candidates to their positions, but that has not seemed to fix the issue. If you are a manager in any size business, you will learn how to improve business outcomes through the partnership of all involved in this important process. Let talent acquisition expert Kevin Stakelum share 35+ years of wisdom with you, including:
Step-by-step practices for managers to get involved in the hiring process
Tips for selection of the best candidates
Data-based decision makingImprove your business and financial outcomes through the use of your talent processDiversity recruiting
Flexible resourcing
Forecasting and other business-based activities.
The companies that win this competition will be able to provide career growth and trajectory in a much broader sense than what has been done in the past. Is your company set up to be agile, candidate-driven, and flexible? Begin Winning the War for Talent today!
Cathy was a recommended resource from a trusted colleague who had working knowledge of her work. This was my first attempt at writing a book, so I found her exercises, resources and weekly calls to be extremely helpful. It was very useful to spend time with others who were also trusting Cathy to help them to write their books.
Even with these resources, there was a point where I was struggling to translate my ideas into a book that others would enjoy. Cathy helped me to re-direct my frustration and helped me to focus on ways to continue the creative process. Without her direct encouragement< may have just given up. She literally helped to save the process by giving specific suggestions and updates that allowed me to be able to fulfill the vision that had led me to begin to write the book. I highly recommend her services to anyone considering writing a book of their own!
To order your copy of Winning the War for Talent, follow this link.