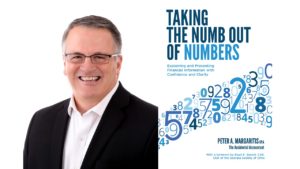 I met Cathy on February 3, 2017, when she facilitated her Blog to Book workshop to our NSA Ohio Chapter.  She immediately caught my attention when she started her workshop by saying that she wrote her book in six weeks and that she hates to write because it's hard work! When Cathy was working with me she understood that I was a speaker who writes and kept me motivated and focused on my goal.  She also provides monthly coaching Zoom calls, access to webinars, and a relationship with a publishing company that made the writing my book a seamless process.  I can't thank Cathy enough for efforts in helping me to write and bring to market my new book. 
–Peter Margaritis, Author, Taking The Numb Out Of Numbers
If you're like most financial professionals, you are "cursed with knowledge" and a comfort with numbers, spreadsheets, financial reports, tax codes, and investment models that collectively add up to a virtual foreign language to others who don't possess a similar knowledge base. Because of this, you may have a hard time connecting with the very people who need your help the most — with your clients or your colleagues. It's a challenge you must overcome, an impasse you cannot simply shrug off. You need to talk to your stakeholders about the numbers; you need for them to understand.
To purchase this book. follow this link.