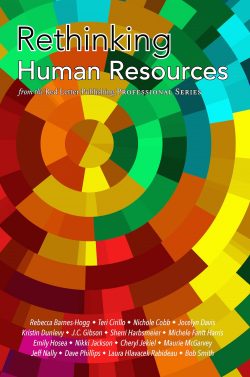 This entry in the Red Letter Publishing Professional Series is the work of sixteen authors, all distinguished members of the Human Resources community. At the core of their work in this anthology is a simple question: how can we rethink Human Resources in ways that make it smarter, more effective, and better-suited to chart the course of the future?
Authors include: Rebecca Barnes-Hogg, Teri Cirillo, Nichole Cobb, Jocelyn Davis, Kristin Dunlevy, JC Gibson, Sherri Harbsmeier, Michele Fantt Harris, Emily Hosea, Nikki R. Jackson, Cheryl Jekiel, Maurie McGarvey, Jeff Nally, Dave Phillips, Laura Hlavacek
Rabideau, and Bob Smith.
To order your copy of Rethinking Human Resources (all Amazon sales benefit the SHRM Foundation), click here.
"Working with Cathy to write a book was the right decision. Authors have many avenues to choose from when it comes to writing and publishing. Where Cathy truly stands out is that she cares deeply about her authors and does everything she can to help them succeed. Her support throughout the writing process is outstanding and she doesn't stop there. After your book is published Cathy continues to support her authors with opportunities to market their book through speaking opportunities, articles, and events. Cathy is the person who will get your book out of your head and on paper and support you every step of the way."

– Rebecca Barnes-Hogg, SPHR, SHRM-SCP, Author, Rethinking Human Resources
"Cathy's tagline "Your Possibility Partner" could not be more accurate and appropriate. I have known Cathy since 2011 and she has always been a tireless advocate of progressive HR. She is so well thought of, so astute and has an incredible international brand as an HR professional. She is also an extraordinary writer. So, when I shared with her that I had interests in writing someday, little did I know that about a year later my interest would manifest into a published anthology. Cathy is a great encourager and coach. She understands the impediments to writing and she works with her contributing authors to remedy them. I very much enjoyed writing with her and learning from her. I am thrilled to now regard myself as a published author and I have Cathy to thank for that."

– Nikki Jackson, Author, Rethinking Human Resources
"This writing experience helped to crystalize several professional thoughts but, even more than the content of the chapter, it helped me to rise a little above the day-to-day fire fights to live a little of the dream to do more than just work. (Warning, it did NOT help me not to write run on sentences…)"

JC Gibson, Author, Rethinking Human Resources