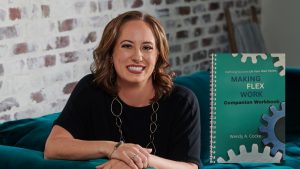 Whether it is flexibility that you want, or a part-time schedule, or just more control, the pages of this workbook will be there to support you.
Over her professional career, Wendy has benefited personally from using these tools, and she's shared them with countless others as they have taken their own journey to customizing their time.
You do not have to have finished reading "Making Flex Work: Defining Success on Your Own Terms" to use this workbook, but feel comfort knowing that it follows the EVALuation method outlined in the book. To help you, this workbook pulls out the most important tidbits from the book and put them alongside each tool, so you can get the most from it.
Tools include:
The EVALuation Method and Refection Questions
Weekly Working Time Trackers
Schedule Optimization Tool
Flexible Work Arrangement Templates
Best of luck defining success on your own terms!
I hadn't even considered a companion workbook until I was in a 5-day workshop with Cathy. Her insights into how to create additional value from my book for both myself and my speaking/training clients was the inspiration I needed to pull it all together.
To order your copy, email Wendy directly at wendy.anderson.cocke@gmail.com.