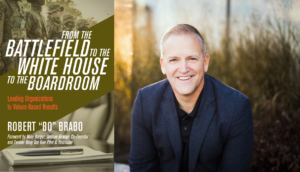 Take a journey with acclaimed leader Robert "Bo" Brabo back through a storied career — to his years on the military battlefield, to a decade in the White House as a Presidential Communications Officer for President George W. Bush and President Barack Obama, and to his experiences as a corporate executive and a small business owner — to learn from real, raw, front-row stories about values-based leadership.
From the Battlefield to the White House to the Boardroom is a leadership memoir chock-full of practical lessons and inspiring case studies to help leaders and aspiring leaders develop, embrace, and strengthen a values-based approach to leading people, projects, and organizations.
Working with Cathy as my book coach was fantastic! She brings a plethora of experience and expertise to every single coaching session, not to mention the encouragement and motivation to write, write, and write some more. My gratitude for her efforts helping me get my first solo book published is immeasurable.