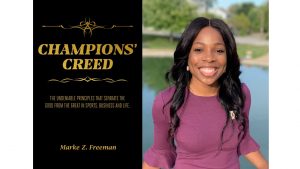 What is greatness? It is a CHAMPION'S ability to execute simple practices, consistently, at a high level. It is a commitment to maintaining uncommon habits and focusing only on what one can control in an effort to be one's best self. CHAMPIONS' Creed is the blueprint that the best leaders in sports and business have mastered to claim their place at the top. The undeniable principles provided in CHAMPIONS' Creed separate the good from the great.
Writing from a deep, been-there experience, Author Marke Freeman takes you on a journey to discover your CHAMPION within. She provides unpopular and unknown actionable strategies to separate you from your counterparts and deliver the results you seek. With authentic examples and results-proven knowledge, Marke shares and unpacks the nine essential characteristics needed to achieve greatness. Through her prolific storytelling, this Catalyst of Greatness connects her personal experiences as a professional athlete and the stories of other world-class beings who also have chosen to stray from mediocrity and attain greatness utilizing these principles. CHAMPIONS' Creed will educate, equip, and empower you to transform your habits, create an undeniable mindset, and progress to unseen levels of success.
I am grateful for Cathy's prowess, patience, and handling of my vision with a champion's care. Whenever I was experiencing a block, she provided expert support to get my wheels turning, which helped me create the energy I wanted my book to have from cover to cover. The quality and insight provided in the book writing course she designed is world-class. I look forward to working with Cathy on future projects. If you are in need of a book coach, stop right here!