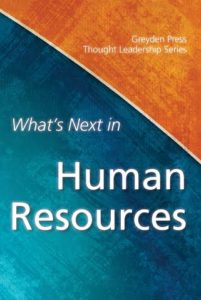 Cathy partnered with 17 authors in human resources and Greyden Press to create What's Next in HR, a new anthology. The authors each wrote a chapter on a topic of their personal and professional interest, and they tackle a variety of topics, from talent management to office culture, with their own unique twists ranging from pop culture and television to data and modern science.
As a national speaker, my credibility (and number of bookings) skyrocketed once I added the official 'author' status to my bio and started sending copies to my prospects. Meeting planners throw away flyers. They don't throw away books!
– Cara Silletto
It was a very rewarding experience to participate in the HR Anthology project. Cathy had us organized with specific timelines and webinars so that we stayed on track. I plan to use it as my calling card when I pursue new opportunities. It has opened my eyes to capturing my thoughts in writing with new or unusual work and life experiences. I doubt that I would have pursued being a published author on my own if it had not been for Cathy Fyock.
– Cindy Hines
Have you ever wanted to get published? I recently participated in writing a chapter in What's Next in Human Resources and I thoroughly enjoyed the experience. Not only did Cathy Fyock do a good job coaching us through the process, but her advice on how to use the book as a tool for obtaining business, getting speaking opportunities, and building self esteem was invaluable. In addition, I learned a lot about different writing styles and techniques which will help me when writing my next book. If you've ever wanted to write, go for it! Even if you never write the great American Novel, the experience will improve your writing abilities.
– Betty McHale
Participating was completely 'painless' and helped me focus my thoughts toward launching the next phase of my career. And it was fast! I particularly liked the many marketing extras Cathy provided. A great experience.
– Susan Harmansky, SPHR
After 30+ years in human resource management I knew I had a story to tell and writing the chapter for What's Next in Human Resources was the springboard I needed to get my book started. Thanks to Cathy for the opportunity and thanks to my husband, Harold, for the encouragement.
– Lynn Ingmire
The experience of contributing to the HR anthology was more rewarding than I expected in many ways. The published book was much richer than any book I could have written by myself! I am proud to forward the book to all my prospects as there is a chapter that will enlighten or inspire them. In fact, one prospect said he was requiring everyone in his leadership team to read it. Thank you Cathy for the opportunity to connect and collaborate with such a phenomenal group of professionals!
– Kristin Dunlvey