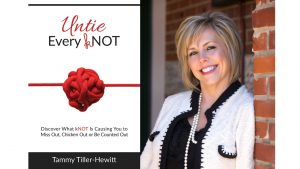 This book is about kNOTS – little k, big NOTS.  It's about the kNOTs we tie around ourselves, around our dreams, our purpose and even around our God-given destiny.  It's about the kNOTs we subscribe to or blame others for binding.   We can get so tangled up in our own kNOTS that it's nearly impossible to recognize their paralyzing, life-limiting, dream-smashing grip.
Knots unlike kNOTS, can serve an important purpose.  The problem is their purpose becomes so blurred, that instead of serving as a temporary safety handle, they become a permanent death-gripping stronghold.
I wrote this book so together we can learn to identify and forever untie the Gordian-sized kNOTS holding us back.  This book is for anyone who has allowed a kNOT to miss out, chicken out or been counted out.
Think of this book as a conversation between two friends. We may laugh, cry and perhaps debate – but in the end we're friends.
Cathy Fyock made writing a book easy. Get her on your team as early as possible. She was my secret weapon!