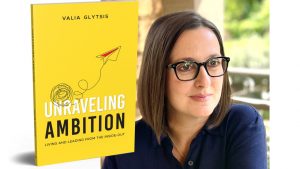 Unraveling Ambition will guide you through practical leadership insights, universally relatable first-generation stories, and deep existential and spiritual musings – all sprinkled with humor and heart.
Written for emerging and established leaders alike, Unraveling Ambition offers a provocative and timely perspective on replacing assumptions and inherited rules with authenticity and personal freedom.
Those willing to take the unraveling journey will learn how to:
● Question inherited patterns and rethink their value and relevance
● Identify core values and strengths to lead life and make conscious choices
● Learn industry-leading, transformational leadership tips, tools and hacks
● Activate more personal energy, gravitas, and confidence
● Explore the more spiritual, quantum side of leadership
● Redefine one's personal relationship with goals, urgency, and ambition
To purchase your copy follow this link.
Working with Cathy was the oxygen that my writing needed to transform a manuscript into my first book! Cathy's candor, wisdom, and experience helped to propel me with both motivation and accountability. Not only was I able to complete my book with Cathy's partnership but also elevate its perspective to ensure the audience was at center stage. I found Cathy very generous with her time and teachings and loved how she specializes in helping business leaders and entrepreneurs elevate their businesses through writing and publishing a book. This is a very special niche and she is its perfect leader. Thank you, Cathy!! More to come!