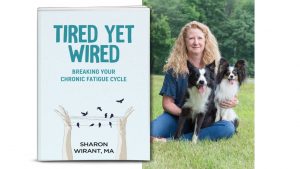 Break Your Chronic Fatigue Cycle! The invitation to break your chronic fatigue cycle, regain energy, and live life on your terms is here! We often think chronic fatigue is a symptom caused only by a viral or toxin overload. We believe that we're destined to live life from a constant state of fatigue. An overload of viruses and toxins may ignite the chronic fatigue cycle, but additional factors primed your system well before your chronic fatigue hit. No matter whether you have chronic fatigue from burnout, CFS/ME, autoimmune disease, or mold illness, you can take back your energy.
In Tired Yet Wired: Breaking Your Chronic Fatigue Cycle, Sharon Wirant, MA, reveals key points to reclaiming your energy by examining chronic fatigue from a holistic and integrative point of view. Key points like: • How the chronic fatigue cycle activates • What factors impact chronic fatigue remission and recovery • Why your food, thinking, behavior, and emotional habits matter • How a life cleanse creates your best health and life • How to reset, reconnect, and recover (or remission) from chronic fatigue
Take back your energy. Let Tired Yet Wired show you how to break your chronic fatigue cycle today!
Cathy's coaching expertise and prowess was exactly what I needed to make my dream of writing a book come true. Cathy expertly kept me moving forward, opened my creative neurons, inspired my voice to come alive, and guided me along the way of making this book a reality.