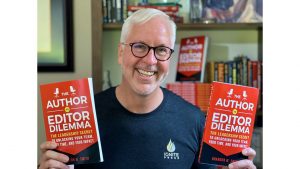 Do you feel overwhelmed by the constant demands on your time? Are you exhausted from handling the never-ending crises of your team? Are you drained by the ceaseless list of changing priorities that come from your leader? If "understaffed and overworked" describes you perfectly and you fear there may be no end in sight, this book is for you.
Despite what you may have been told, you don't have a time management or "prioritization" problem – you have a seat problem. The solution to reclaiming control of your life and winning back hours in your week is to overcome and master "The Author vs. Editor Dilemma." Through this book, you will be equipped with the tools to:
Lead your team to take ownership, show initiative and display critical thinking to solve challenges without you;
Reclaim your time so you spend more time working "on" the business rather than "in" the business; and
Maximize your impact by learning the art of "clienteling" as you guide your supervisor's decisions and influence your organization's direction.
Brandon Smith draws on his extensive experience as an executive coach to share illustrative examples of leaders who have transformed their chaotic and frenzied schedules into focused and streamlined strategies by utilizing the practical tools set forth in this book.
Bursting with innovative ideas, practical examples and easily implementable approaches, "The Author vs. Editor Dilemma" will transform how you think about the structure and organization of your daily interactions. It will help you maximize any vertical relationship, from leading your team to influencing your manager.
This is the second writing project that I have enlisted Cathy for her guidance and expertise. With Cathy's help, I've published two books that I am proud of and that my clients have found applicable and practical to their everyday leadership. I am grateful to Cathy for her time and thoughtful attention to my work. She showed up to every checkpoint meeting with thorough feedback, helpful suggestions, and the right amount of encouragement and accountability. Cathy's positive approach and wise coaching led me through the often painful and sometimes lonely process of writing and helped me feel empowered and capable to complete the daunting task of finishing a book.