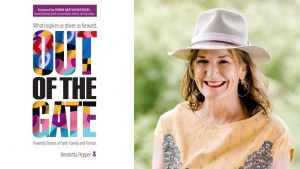 Life is a series of twists and turns. We transition through different seasons. Journeying from our childhood days to adulthood, powerful learning experiences become foundational to evolving our hearts and minds. Stories handed down to us help build our character and shape our culture. Today's shared stories ultimately will be woven into the fabrics of generations to come.
Out of the Gate: What inspires us drives us forward is a compilation of stories rooted in a blend of faith, family and friends. Kentucky author, Henrietta Pepper, shares relatable stories readers can absorb and embrace through their own personal lens. Reflecting on our own personal stories, and listening to others' stories, provides the opportunity to pause and take stock of our lives. Where have we been and where are we going? There is such power in storytelling. There is even more power in story sharing.
I've dreamt of writing a book for some time. Cathy has been a primary catalyst for making my publishing reality come to life. Her process is concise and productive. She held me accountable and guided me in maintaining my voice throughout the manuscript. The writing retreats really inspired me and set me on a path to making this goal come to fruition. Investing in Cathy's services has been well worth it and I would highly recommend her to any budding—or experienced— author!