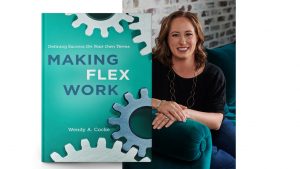 Does the idea of a nontraditional work schedule elicit fear in you? What about excitement?
Either way, it's time to broaden your perspective on what professional success can look like. Even if you're a 'yes' person, who struggles with the guilt of letting people down if you challenge the status quo, you can.
It's time to reframe your professional life and consider customizing a schedule that works best for all the parts of your life.
Using simple engineering principles and some psychology, this book can help you:
Get where you want to go using the 4-step EVALuation method
Proactively manage your presence to build your personal brand
Get what's right for you when it comes to work/life balance
Support flexibility in your organization
Above all, you will discover that by redefining your professional boundaries, you will be able to do your best work while simultaneously being the best version of yourself at home too.
Cathy was just what I needed when I needed it. Her calm and consistent approach gave me the confidence I needed to write and publish my first book. The community I found in her PAGES group each week has developed into true friendships and I can't imagine going through the process without them (and her). If you think you have a book in you, Cathy can help you find it and get out into the world.