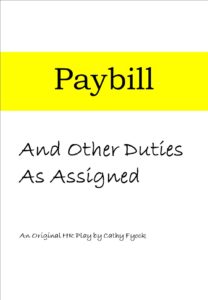 Cathy Fyock's original play, 
And Other Duties As Assigned
, was performed as the opening keynote for the KY SHRM Conference to high accolades!
"Delightful."
"Informative and entertaining."
"Very real."
"So funny and energetic. Very creative way to portray a typical day in HR!"
 "Great actors and relevant to HR issues. Very entertaining."
"Wonderful! It was a very realistic portrayal of the real world of HR. Great job by all involved."
"The play was great. As funny as it was, some of it rang true for me."
"Loved it."
"Great job. If everyone only knew what HR is confronted with day to day."
"Very realistic and entertaining."
"Funny."
"Really entertaining"
"A lot of fun"
"Hilarious! Loved it! Much better than listening to a lecturer."
"Hilarious"
"Engaging comedy/drama;­ I know some of those people!"
"Absolutely fantastic! The play touched on so many true events and feelings."
"Brilliant."
"What an awesome program!" "
"Loved the play! It was funny but real"
"It's good to see that I'm not alone­ in dealing with any situation imaginable. Great idea­ well done! Great for end of day focus."
"Relevant and fun."
"Excellent, would love to see this again!"
"The sad thing is that these stories happen all the time. Very comical."
"Excellent play! Loved it!"
"Love the play. Had fun. Really described how HR is."
"Entertaining, and still relevant to what we HR professionals deal with daily. I appreciated the humor to lift the mood of situations that can be very serious."
"This was so fun! Great job."
"Entertaining parody. Fun way to demonstrate how HR professionals are appreciated and bring value to employees we serve."
"Good points of how HR can be and why we do what we do as HR professionals."
"So funny and totally true. Very engaging!"
"So much fun and creative, unique way to discuss real life practical dilemmas and issues we face daily."
"Funny and accurate depiction of a day in the life of an HR professional."
"Play was fabulous, funny, entertaining, but sadly true"
This was so much fun. The cast put their all into it and took a great play and brought it to life . . . well maybe larger than life in some cases. Thanks Cathy for sharing your play with us.
Lynn Ingmire, SPHR, SHRM-SCP, Chair KYSHRM
For more information and to book this play for your next learning event, contact Cathy Fyock.