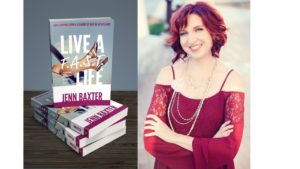 Have you ever felt overwhelmed by what life has thrown at you? Whether you've suffered personal loss, a major life change, career challenges, toxic relationships or even a health crisis, you've found yourself wondering if the storms would ever stop coming and if you'd ever be able to feel truly happy again.
Jenn Baxter wondered the very same thing. During the course of just five years, she endured a series of back-to-back traumas that would change her world forever. The stress of an abusive relationship, both her parents' deaths, a toxic work environment and years of emotional turmoil finally caught up to her in 2014, when she found herself with advanced adrenal fatigue and barely able to function.
But rather than spiraling downward into a pit of despair, Jenn rose from the ashes with more peace and joy than she'd ever had before.
How did she do it?
By getting back to what really matters.
Following God's lead, she "stripped down and cleaned up" her life. She let go of her connection to material possessions and downsized to a 160-sq-ft tiny house on wheels. She took control of her health by cleaning up her diet and switching to non-toxic products. And she finally confronted all the emotional baggage that she'd been unknowingly holding onto for years. Then, with a clean house, a clean body and a clean spirit, she set out to make her dreams happen NOW, not later.
Read her raw and inspiring story, then be ready to do the same. Live a F.A.S.T. Life: How Stripping Down & Cleaning Up Gave Me My Life Back gives readers the inspiration and practical tips they need to start living lives that are more Fabulous, Abundant, Simple and maybe even … Tiny.
Cathy Fyock was truly a divine connection for me.  I had been putting off finishing my book for a couple years, but I believe we were brought together at the perfect time.  Once I connected with Cathy, my fire was renewed.  Not only did she understand my story, but she was so passionate and excited about it, that I got excited again too!  Throughout this process, she has been a sounding board, an advocate and a guide and I am so thankful for all of her help to make my book dream a reality!
–Jenn Baxter