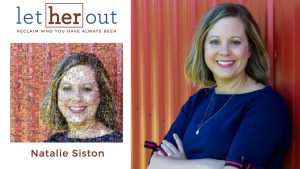 Once we get to a certain level of success, we forget about the girl inside of us. she is the one who was the first to hop into a game of pickup basketball, but now all she does is pick up after others. She was the one who played the lead in the school musical, but now only sings in the shower. She wrote her deepest thoughts in a journal, but is now stuck writing one business report after the other. If you feel like your inner girl (or boy) gets sent to the back of the line when the next deadline, meeting or family obligation pops up, this book is for you. Let Her Out: Reclaim Who You Have Always Been is where life story meets life coaching. Dive into Natalie's journey, which started in a small Midwestern town, took her to Silicon Valley, and eventually back home to Ohio. Along the way, you will be presented with 100+ coaching questions to help you reconnect to your story on your own journey to:
Remember Her
Reconnect to Her
Remove Barriers to Her and
Let Her Out.
Cathy was able to bring clarity and direction to my writing process. I LOVE to write and would write all day long. Cathy was able to help me take the massive amount of writing I had done through my blog and other writing platforms and turn it into a cohesive and compelling body of work that I am proud to call my first book! Within the first session, I knew I made the right decision to hire Cathy to help me bring this book into the world.