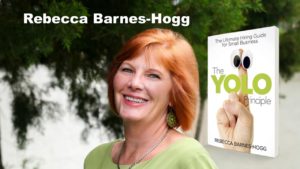 You took the first step towards writing your book as an anthology author or perhaps you've been blogging or writing articles for newsletters and publications for a while. The good news is that you have all the material you need to write your book. If the only thing holding you back is knowing where to start, join Rebecca Barnes-Hogg, coauthor of 
Rethinking Human Resources
, as she discusses the process she used to turn her chapter, weekly blog, and articles into her book, 
The YOLO Principle: The Ultimate Hiring Guide for Small Business
. Rebecca will walk you through how she took the concept from her anthology chapter, combined it with her weekly blog topics and published articles, and completed her book in nine months. You will learn how to organize your book using material from your speaking, blogging, and articles. You will learn about the tools and resources that make writing your book fun and easy. You will get tips on how to find your title, block out time to organize and write your book, get feedback and peer reviews on your writing, and work with an editor, publisher, and creative team. Now is the best time to write your book to establish your credibility as an expert, build your speaking platform, launch your other products or services, or advance your career.