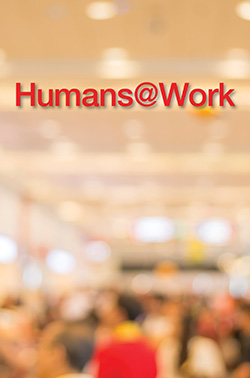 We're in this together—
…but how?
"People are our most valuable resource." It's a common refrain in company meetings, public events, and even the posters on the office wall. But sometimes, it's hard to believe — especially when employee satisfaction is at an all-time low.
If "people are our most valuable resource," what makes that true? And even if we all believe it, how do we make that belief manifest in our work spaces, in our everyday behaviors, and in our core operating principles?
Humans @ Work welcomes the latest answers from professionals of all stripes. Whether you're in OD, HR, management, academia — or somewhere else entirely — you understand how all employees are humans at work, not just workers. How can we better understand that — and make use of it for everyone's benefit?
Authors include: Michele Fantt Harris, Jill Heineck, Neal Henderson, Mary Pat Knight, Colleen Luzier, Demetria Miles-McDonald, Jeff Nally, Gordon L. Peterson, Lisa Seay, Rusty Steele, Tracy Stuckrath, and Shelly Trent.
Writing a book chapter under Cathy's tutelage has been a dream!  She has "been there, done that," so she takes you through exercises to help get your ideas flowing, to overcome your writer's block, and to go from idea to chapter in just a couple of weeks!  I have been published quite a few times before, but my articles were either online or in encyclopedias.  It's great to have a book that I can hand someone as proof of my knowledge and writing ability.  I have actually given my book to employers in the interview process.
 – Shelly Trent, SPHR, SHRM-SCP, Your Career Collaborator
I always dreamed of writing, and I wanted to share my perspective with the world, but that was little more than a pipe dream before I met Cathy.  The whole concept seemed too daunting a task; I didn't know where to start and had so much self-doubt. Thankfully that is where Cathy came in; she has a gift for helping writers get past their self-doubt, she doesn't just coach you on how to write, she coaches you on how to write through the emotional hurdles that you will face along the way.
Cathy's system works. She gave me a process to follow, breaking the project into smaller less intimidating pieces, and with each step she gave me the tools, coaching, and confidence needed to put my passion on paper. This was one of the most rewarding professional development experiences of my career.  If you've dreamed of being a published author, I highly recommend Cathy Fyock, as she truly is a possibility partner.
– Rusty Steele, SHRM-CP, PHR, Author, Humans@Work
To order your copy of Humans@Work (all Amazon sales benefit the SHRM Foundation), click here.