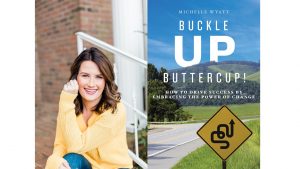 Amid a truly disruptive and disorienting moment in history, one thing is clear: everything has changed … the way we work, shop, hire, lead, educate our children, socialize with friends, manage our health, and so much more. Our expectations regarding "normal" activities or status quo interactions, in the workplaces and socially, have changed forever. And the very concept of change – for most of us – feels unsettling and scary. But change agent and change "survivor" Michelle Wyatt assures us that we can not only navigate change successfully but embrace and leverage it to put ourselves back in the driver's seats of our lives and careers.
Change is the perhaps the only constant and, yet, we fear it, avoid it, resist it, and even grieve in the wake of it. It makes us anxious and hyper-vigilant. But what if we could see change as an opportunity? An asset? A leg up? A silver lining? What if we could plan for and manage change in a way that helped us live our best lives?
Join Michelle Wyatt on an emotional and intellectual road trip through the nuances of personal and professional change, exploring how changes – of any size, at work or at home – can impact so very much, and why they require our honest and focused attention. Michelle offers stories from her own childhood and from her own major (and wildly successful!) career change from elementary school teacher to corporate trainer. Today, as a workplace trainer for business professionals in every area of functional expertise (from IT and marketing, to accounting and operations) in industries as diverse as financial services, hospitality, retail and personal services, Michelle sees – every day – how corporate change trickles down to impact us all. She has discovered that different approaches, attitudes and circumstances surrounding change can make a vital difference in the personal and professional results we experience. And she's developed fresh ways for you to turn those insights into a kind of modern-day competitive edge.
I had a story to share but had no clue how to make that happen before meeting Cathy. While working with Cathy I was able to get a solid outline and begin drafting my full manuscript. Probably the most valuable part of working with Cathy came via her connections to the publishing world. Through Cathy I was able to begin building a relationship with Silver Tree Publishing who ultimately chose to publish my book. Through the connection with Silver Tree my final product was better than I could have imagined and outperformed what I had anticipated.