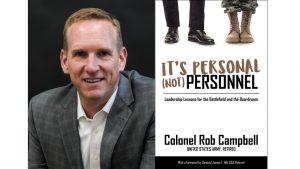 There has never been a more important time — in corporate America and in the American military — for leaders, at all levels, to understand how to invest in people. This book teaches you to do just that. Written by a 27-year Army Colonel, veteran and leader of more than 5,000 troops in the 1st Brigade of the 101st Airborne Division, It's Personal, Not Personnel: Leadership Lessons for the Battlefield and the Boardroom offers true stories and practical frameworks you can apply to the people in your organization and on your team.
To listen to the recording, follow this link.
To order a copy of It's Personal, Not Personnel, follow this link.