Blog2Book Individual Coaching
How do I turn my blog into a book?
If you've been writing a weekly blog or column for at least one year, you likely have all the content you need for your first or next book.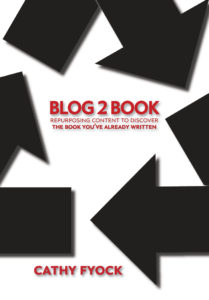 And, while you may know that, does it seem like just too much to get it done so that you can operationalize your book to grow your business?
Blog2Book will get you from where you are now (a stack of nice blog posts) to where you want to be (the author of a printed book!) when you work with Cathy and her B2B process!
What You'll Do
Identify 52 blog posts of 350 – 800 words each (to create a book of about 35000 words)
Strategize with Cathy in a 90 minute meeting to identify your unifying theme and project plan
Forward content to Cathy
Approve book drafts
Complete Cathy's template to customize your book (about the author, letter to reader, contact the author)
Meet deadlines to reach the 90 day goal (or whatever we mutually agree upon)
What Cathy and her publishing partner provide
Strategic support for creating the unifying theme and project plan
Templates to make it easy for you
Editing support
Standard cover art and interior formatting
Publishing
Initial order of 100 books
You retain your intellectual property
Investment 
Your investment for this package of services is $6500, which includes all coaching support, book editing and publishing, and 100 copies of your book.
Additional copies of your book are available for purchase at cost plus 10%.
Investment is payable in full at the onset of the coaching.
Blog2Book Group Coaching
Don't have a blog but want to start one?
Started on a blog but didn't keep it going (but know you should)?
Want to have a book in a year with the content you develop for that blog?
Join Cathy Fyock's Blog2Book Group Coaching to start or continue a blog with the ultimate goal of having a book at the end of the year!
What You Receive
A one-on-one strategy session with Cathy to develop the thesis and strategic plan for your blog/book
Weekly recorded sessions to give you the discipline to write a weekly post for one year
Access to virtual meetings with Cathy and fellow Blog2Book writers
A copy of Cathy's new book, Blog2Book
Access to Cathy's bonus webinars on writing, publishing, and promoting your book
Investment
Your investment for this package of services is $2500 for a one year period.
Praise for Blog2Book Coaching
In my coaching sessions with Cathy, I created the outline for my book, completed the table of contents and wrote over 7,000 words! Cathy knows how to get you writing and on your way to becoming a published author! 
If you didn't think you could write a blog or a book, Cathy is the coach and strategist who knows how do get your words out of your head and on paper.  You'll be publishing your words faster than you can imagine.
If you've never written a book, Cathy is an expert book coach who will spark your thinking and get you writing!
Jeff Nally, PCC, SHRM-SCP, SPHR
Speaker | Executive Coach | Author | Neuroscience Advocate